In a particularly busy and intense news week including the war in Ukraine, that Oscar's slap, Bruce Willis' aphasia diagnosis and a memorial for Shane Warne, our 'greatest guitar riff of all time' research story hit the headlines.
We conducted a new, nationwide study by music content and software provider Muse Group, creators of Ultimate Guitar, and revealed the results of the most iconic guitar riffs to the UK national press.
The national pick up was phenomenal in print, on-line and in broadcast media. National newspaper reach alone achieved in excess of 380 million.

Print:
Daily Mirror (CIRC: 333,731): included on page 3 – a quarter of a page
Daily Mail (CIRC: 909,201): included on page 11 – same page as the Bruce Willis news story
The Sun (CIRC: 1,210,915): included on page 12 – same page as the Shane Warne memorial Daily Star (CIRC: 194,545): the paper read most regionally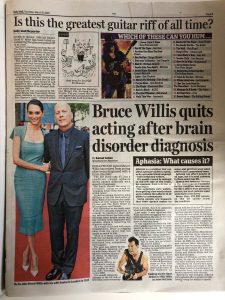 Online:
Sky News (MUU: undefined): a global reach which isn't even defined by the outlet it is so large
MailOnline (MUU: 357,200,000): the biggest entertainment & online news national publication with an immense reach in UK and the USA
Music Radar (MUU: 5,088,243): the leading dedicated music publication
Ghost Cult Magazine (MUU: 19,716): a music news, interviews, and reviews portal
Radio Exeter (MUU: 155,295): some great regional pick up. Radio Exeter. Is the leading radio/online publication with a lot of Cornish readers
Daily Advent (MUU: 3,900,633): the piece on music Radar was syndicated on Daily Advent
Broadcast:
6 x interviews with a Muse spokesperson
You may care to differ, but Slash's fret work on the 1987 classic Guns N' Roses song came top with 37 percent of the vote.
The riff on the song – which reached Number 6 on the UK chart in 1989 – actually came from Slash's warm up exercise before a rehearsal where he started playing a "circus" tune, which he then developed into the full riff.
Second on the list was Survivor's 1982 Eye of The Tiger (29 percent), which featured in the classic Sylvester Stalone movie  Rocky III.
And in place third came Queen's legendary 1980 smash Another One Bites The Dust (28 percent). Written by bassist John Deacon, the song was featured on the group's eighth studio album The Game and was a worldwide hit.
The research also delved into people's attitudes towards classic riffs and found 96 percent agreeing that they can appreciate a good guitar riff, even if they weren't die hard rock fans.
The study found that guitar riffs can be inspirational with 76 percent of people wishing they could play the guitar whenever they hear a favourite anthem.
Jonathan Kehl, of Muse Group, creators of Ultimate Guitar commented: "As owners of Ultimate Guitar, we wanted to find out with this research what the nation's favourite guitar riffs of all time are, and it's great to see the variety and timelessness of many of the pieces selected. It's clear that people are genuinely interested in how they can learn these riffs, and why it's worthwhile picking up an instrument whether it's for the first time or the 70th time."
THE TOP 30 BEST GUITAR RIFFS OF ALL TIME
Sweet Child O'Mine – Guns n Roses 37%
 Eye of the Tiger – Survivor 31%
 Another One Bites the Dust – Queen  29%
 Sex on Fire – Kings of Leon  28%
 Stairway to Heaven – Led Zeppelin  28%
 Beat It – Michael Jackson  26%
 Smells like Teen Spirit – Nirvana 25%
 Sweet Home Alabama – Lynyrd Skynyrd 23%
 Layla – Eric Clapton  23%
 Money for Nothing – Dire Straits 22%
 Purple Haze – Jimi Hendrix 21%
 The Chain – Fleetwood Mac 20%
 Back in Black – AC/DC 20%
 The Ace of Spades – Motorhead 20%
 Walk the Way – Aerosmith  20%
 Smoke on the Water – Deep Purple 20%
 You Really Got Me – The Kinks 19%
 The Wall – Pink Floyd  19%
 Ring of Fire – Johnny Cash 18%
 I Love Rock 'n' Roll – Joan Jett 18%
 Voodoo Child – Jimi Hendrix 18%
 Born to be Wild – Steppenwolf  18%
 Seven Nation Army – the White Stripes  18%
 Satisfaction (I Can't Get No) – the Rolling Stones 17%
 Come as You Are – Nirvana 17%
 Whole Lotta Love – Led Zeppelin 17%
 I Bet You Look Good on the Dancefloor  – Arctic Monkeys  16%
 Message in a Bottle- The Police 16%
 All Right Now – Free 16%
 Brown Sugar – the Rolling Stones 16%
Research of 1500 UK residents, commissioned by Muse Group and conducted by Perspectus Global in March 2022