We are buzzing with excitement for Senior Account Executive, Natacha Salgado, who is a finalist in the prestigious PR Moment Awards' Young Professional of the Year category.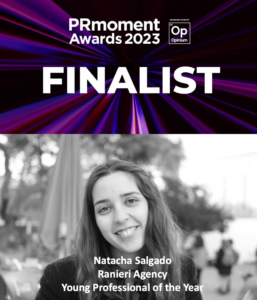 A Portuguese native, Natacha joined the UK team as an Account Executive in July 2021 working remotely from Portugal during Covid, and then moving back to London. She was promoted to her current position in March 2020 in recognition for her achievements and contribution to the agency.
Unwavering in her energy and passion, Natacha is laser-focused in her pursuit of results for her clients and renowned for exceeding a client brief – no matter how mountainous the task! She is the embodiment of resourcefulness, creativity and tenacity. Her sharp humour is infectious, as is her warmth and empathy for all around her – it's no wonder she's loved by clients, colleagues and media alike.
As part of the rigorous selection process, examples of Natacha's achievements for clients such as ASUS, Content Stack and Snoo: Happiest Baby had to be submitted and evidenced with tangible results and outcomes. Colleagues and clients were also asked to submit their comments:
"Natacha is one of the most energetic, enthusiastic and authentic individuals I've ever worked with approaching every campaign with creativity and commitment. She is an excellent communicator with a good knowledge of ASUS products who has also gone out of her way to understand our internal processes.  She is adept at forging good client-agency relationships and really impressed our visiting HQ team on the recent press tour with her unique style of warmth, wit and professionalism."​
​George Collins, PR Specialist, ASUS Systems​
​
Natacha is nominated alongside peers from agencies such as Hotwire, W Communications and Harvard – further testament to the significant contribution she has made to her clients, Ranieri Agency and the wider communications industry.
This is the second year in a row a member of the UK team has been a finalist in this category with Hannah Strong nominated in 2022. The 2023  PRMoment Awards winners will be announced at an awards ceremony in London on 20 April.  Fingers crossed for the final!
#PRAgency #TechPRAgency #TechnologyPRAgency #ConsumerElectronicsPRAgency #ConsumerPRAgency #GamingPRAgency #European PRAgency #EuropeanTechnologyPRAgency #SocialMediaAgency #InfluencerMarketingAgency #PressOffice #MediaRelations #LaunchEvents